Everybody always wants a good wine under $10. And that's never been more true than now. The sad thing is that it's so hard to find good wines under $10. But here are three reds from the South of France!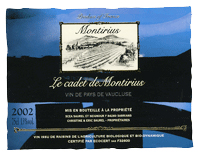 Montirius, Le Cadet, vin de pays de Vaucluse, 2005 ($9.99; find this wine)
This blend of 50% Grenache – 30% Syrah – 20% Cinsault comes from a couple in the Southern Rhone who make their wines biodynamically. This particular cuvee is fermented in cement (!) tanks. When I met Christine and Eric Saurel, the owners and winemakers, a few years ago at a trade show, they told me that cement is more "alive" than stainless steel but doesn't impart the flavors of oak. It is a great value with good acidity, fun dark berry notes, and tannic poise. I need to restock, probably by the case.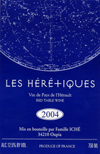 Les Hérétiques, vin de pays de l'Hérault, 2007 ($9; find this wine)
Made from Carginan grapes, this wine hails from the Languedoc region. It has a whiff of that bretty barnyard thing, which some might find off-putting and others alluring. But on the palate there's not much to argue with since the wine has good fruit and tannins. It's not as smooth or rewarding as the Chateau d'Oupia, from the same producer, but this one would make a solid party wine. Importer: Louis/Dressner.
Domaine de Fenouillet, vin de pays de Vaucluse, 2007. ($9; find this wine)
Marcelan? Yeah, I hadn't had that one either. But it's the main grape in this wine, also from the Vaucluse like the Montirius. The wine is a little less structured more tannic than the other two so I would use this wine as "ballast," i.e. when there are four of you and two bottles are already empty and you need to crack open a third bottle of something decent that's not too expensive. Importer: Neal Rosenthal.