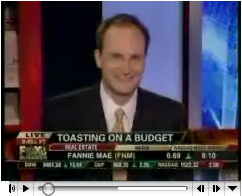 Cara, who runs the green room (or whatever that waiting room is called) for Fox Business, asked me a great wine question when I was on the station in December. Instead of asking me for a specific wine that she might or might not be able to actually find, she asked me for on how to get the most out of wine. Nice! Context! You know I love that.
So I asked her whether she meant actually consuming wine or finding wine. She said both. So here's what I said:
1. Spend a little extra on good stemware! You don't have to break the bank since, undoubtedly, the glasses themselves will break at some point. But they can elevate modest wines and do fine wines the appropriate justice. Ravescroft has some good crystal stems starting at $10. And our house staple, as I've written before, is the Tritan Forte, which is "impact resistant" thanks to titanium infused in the lead-free crystal.
2. Find a good independent wine shop! You can read all you want about great sounding wines on blogs or in the paper but unless you can actually try the wines, your fun is severely limited. Work with an articulate member of the staff to find wines that you like.
You can read more about these suggestions–and more!–in my new book A Year of Wine: Perfect Pairing, Great Buys, and What to Sip for Each Season. If Cara asked you for your top two general wine tips, what would you tell her?
Also, the first segment I did on Fox Business over the holidays has just unearthed from the great video vault somewhere (although the poor audio and video quality makes it look like I was in a witness relocation program). "Enjoy!"