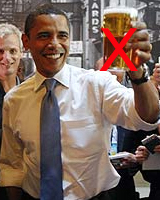 After learning that the wine vote carried Obama to victory, it's no surprise that wine writers can barely contain the corks from popping until next week.
John and Dottie dig up this vignette from the the White House Historical Association: "In 1840, the Whigs presented their candidate, William Henry Harrison, as a simple frontier Indian fighter, living in a log cabin and drinking cider, in sharp contrast to an aristocratic, Champagne-sipping Van Buren." But then they say they don't know what Obama will have after the inauguration.
Cue Elin McCoy. She's got the intel on this one. And it ain't all pretty. To the tape: "Fortunately for Barack Obama, the first wines he'll sip as president include some pretty nice California bottlings, though one of them poses a foreign-relations test. At the inaugural congressional lunch at the Capitol, right after the swearing-in ceremony, the wines will include 2007 Duckhorn Vineyards sauvignon blanc ($30; find this wine) and 2005 Goldeneye pinot noir ($55; find this wine). Two hundred dignitaries will toast the new President with 15 magnums of Korbel Natural sparkling wine ($15; don't find this wine). It's labeled "California Champagne," so better not show it to the French." Korbel? Puh-lease. And how did Duckhorn hit a double (they also make Goldeneye; see the inaugural lunch menu at their site)?
Mike Steinberger pops off a piece on Slate bristling with his usual brio. He has his own version of financial stimulus and suggests expanding the paltry White House wine cellar, introducing mature wines as opposed to current releases, and flattering foreign dignitaries by re-introducing wines from their own lands (presumably as an aperitif). I'll raise a Montelena to that.
What will you pop next Tuesday? UPDATE: Or, if you were in charge of the inauguration lunch, what would you pour for the 200 honored guests?
Related: "The Sorry History of Wine in the White House," p. 54, A Year of Wine
"Leaders and Liters of wine"