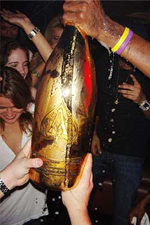 Yes, even though the economy is down, some people are not out!
For exhibit A, we turn to an anonymous clubgoer who, according to the blog Guest of a Guest, spent $20k on a methuselah (six liters) of Armand de Brignac. Yes, Ace of Spades, so 2006! But still going strong, apparently. NY mag's Grub Street terms this bling spend an example of "douchebauchery."
For exhibit B, we turn to the Charles de Gaulle airport, where an anonymous Christmas eve shopper (desperate for a gift?) dropped 46,423 euros ($65,013) during a wine spending spree! Bloomberg details what he brought the the register: "a Cote du Rhone [sic] La Tache from 1991 and several bottles from the Bordeaux region, including a Lafite Rochschild bottled [sic] in 1947 and a Chateau Latour from 1976." Paper or plastic? Seriously, this dude needed to think of structuring his gift so the recipient could spend the $65k at auction, where all the deals are!