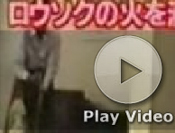 [Before launching into this post, be sure to get a laugh with this spectacular, poppin' Champagne video from Japan, posted here earlier this year!]
"We're selling a lot of Prosecco," a leading Manhattan retailer told me recently as he has observed consumers trading down from Champagne this fall. Not only are people trading down within grape bubbly, Starwood hotels forecast that beer would be the bubbly of choice for the holidays this year. Say it ain't so! Here are a few grape bubblies worth seeking out.
In my quest to provide bubbly at every one of my events, I have, indeed, had to trade down from Champagne several times. I've had the Col Vetoraz (find this prosecco) and the Bisson (find this prosecco), two slightly off-dry versions of the simple and fun Prosecco under $15. (The Bisson could fake people out before opening since it doesn't have a large cork akin to most bubbly.)
At the most recent meeting of a local wine tasting group I belong to, the theme was bubbly and we poured the sparklers not from Chardonnay or Pinot Noir, the traditional grapes of Champagne, in one flight, blind. The Cremant d'Alsace from Lucien Albrecht (about $18; find this cremant) won by a mile with its good acidity and fine bead.
In the domestic sparkler category, I approached the Gruet with trepidation after a previous experience that fell quite, um, flat. But the rose ($15; (find this sparkler) got a thumbs up.
In the Champagne flight, more serious bubbles in the glass and in price, I was surprised that the Taittinger brut La Francaise (find this champagne) came out on top. Although it's an excellent nonvintage wine, it's a lighter style that I thought would be trumped by the the richer and fuller and delicious Bollinger Cuvee Speciale (find this champagne), which came in second. Gosset (find this champagne), another fine champagne, came in third.
Let us know what you plan to pop tonight! And whatever it is, may you have a happy new year!