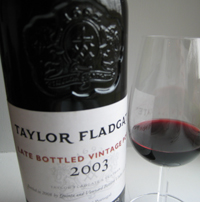 "I always thought port was gross," a friend told me after I poured him a port that he actually liked. "But I guess that's because I always had it at my uncle's where the bottle had been open since last Christmas."
Indeed, port is not gross; in fact, it can be delicious. This year I've tried some excellent vintage ports, some with several decades of age on them, which makes them fantastic. The only trouble with vintage port is that it requires so much patience, usually two decades' worth. Many of the top vintage ports currently on the market run close to $100 a bottle.
There's another way to get the vintage character with a discount and put it in the express lane: Late Bottled Vintage or LBV. To qualify as vintage port, the wine must be bottled within about two years of harvest and do much of its aging in bottle. But the port houses age some of the port from one vintage longer, sometimes up to six years in cask, and then bottle it as LBV. It's vintage character port that's ready to drink.
The Taylor-Fladgate LBV 2003 is an excellent example. The vintage was outstanding and the producer it top notch. The port in the glass has a vibrant red-purple hue, lovely sweet and ripe aromas, and an unctuous, viscous, multi-layered palate that has a pleasant spice on the finish. We tried this with some friends who happened to have some Roquefort on hand and it really was one of those classic, perfect pairings. All we needed was a roaring fire!
Here's perhaps the best part: I asked that friend how much he would pay for the port, with it's handsome embossed bottle. He said $50. It's actually under $20 (find this port). What a great gift!
The Quinta do Noval LB won lots of praise at two events where I poured it recently. Another top producer, this port doesn't state a vintage, opting instead for the LB. It's under $20 as well (find this port).
A little port does go a long way so it's probably best to open when you have people over. As to the freshness of LBVs, I find that they can keep for a few days (maybe five), but shouldn't sit around for too long after opening. Don't be like my friend's uncle and keep it too long and then foist it on unsuspecting guests!