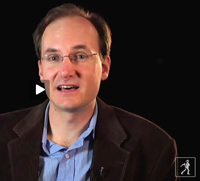 It's time for a review of some reviews! Thanks to all who have taken time to write their thoughts about one or both of my books; I'm glad they have gotten a warm reception. And thanks for buying the books and giving them as gifts! Purchasing one or both of these hardcover books helps support this blog and all its free content all for the price of less than your entry-level Pinot Noir (and there's even a list of Pinots under $25 in A Year of Wine!).
In the photo snatched from a video, the black backdrop isn't from Charlie Rose; I actually did a video podcast at the swanky new studio in the offices of Simon & Schuster and they have it now on their web site. Hear the exciting backstory of how this blog was forged in an artisanal workshop and then launched on an unsuspecting world! And an overview of what's in the book! And where the stock market will bottom! Okay, maybe not that last one.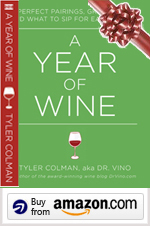 Bill Daley had very nice review of A Year of Wine in the Chicago Tribune, calling it "charming…witty, lively and loaded with common sense. [Colman] offers up wine suggestions for every holiday on the calendar. Just what we all need." Click through to see the other books he reviews!
I also went on the New Hampshire Public Radio show, Word of Mouth, for the second time this year. Host Virginia Prescott and I chatted about plotting your wines to the seasons and some holiday wines. Listen here.
At the Pittsburgh Post-Gazette, columnist Elizabeth Downer writes Santa that "All I want for Christmas is a cool wine gift" and includes A Year of Wine on her list.
Over at Slashfood, Gretchen Roberts writes about A Year of Wine that "the key to writing a successful and engaging book is in organizing the material in a new way, or what editors like to call "packaging." Colman's packaging is what makes the book worth buying. Talking about drinking wine with the seasons is new, different, and it makes so much sense to regard wine in this way…I absolutely recommend [it] as a great buy for your bookshelf and your comfy chair.
Tom Wark, the first to post a review, writes on his blog, Fermentation, that A Year of Wine is "a terrific addition to the Wine Guide genre that will enlighten many a wine drinker by making their relationship to wine deeper and more meaningful…and probably more fun too."
Richard, the Passionate Foodie, writes that AYOW is "far more than just a buying guide, more than just a dry recitation of recommended wines. So I bought the book and eagerly devoured it in its entirety the next day."
Over on Smells like Grape, Taster B writes about AYOW that "fans of the Dr. Vino blog will certainly want to have this book around for a handy reference, or buy it as a gift for the wine newbie on their list."
Also about AYOW, Jesse at Young Winos of LA writes, "Dr. Vino's stately hardcover is the one you display on your coffee table and read with a big glass of Zinfandel. If it's winter, that is. Because if it's summer, you'd read it on the porch with a Prosecco, and if it's fall, you'd pop a Mourvedre."
UPDATE: Dr. Debs posted a review today including it on a list of gift books, saying AYOW is "the perfect choice if you have someone on your list who is new to wine or is intimidated by wine."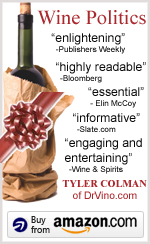 Sharon Kapnick, an experienced freelance wine writer, actually pops off a thoughtful review of both books, noting my Dr. Vino and Dr. Colman sides. Of A Year of Wine, she writes, "there aren't many wine books — if any — organized around seasons…The book is laced with Colman's sense of humor and charm…Also included are 12 wine tourism destinations, short interviews with some of the country's best sommeliers, and numerous useful sidebars: "How to Chill a Wine Bottle in Five Minutes," "How to Tell If It's Sulfur That Gives You Headaches."
Of Wine Politics, she writes "At last, a topic that has long deserved attention has gotten it, in a well-written book that is as compelling as its subtitle is catchy. It will change the way you think and may even change the way you shop and the wines you buy."
I also discuss both books on the KDVS (UC Davis) radio show, "It's About You!" for almost an hour with host France Kassing. (see 11/24 show)
And I also talked with host Jerome McDonnell about Wine Politics on his Chicago Public Radio (WBEZ) show "Worldview."
Vancouver Wine Info says "Wine Politics is the type of book you can pick up and read 6 months later and still be intrigued. I give it 93 points!"
Wine Marketing + Law Canada says of Wine Politics: "Excellent book discussing how politics affects the quality, cost and availability of wine. Although the book barely mentions Canada, the issues and topics are nowhere more relevant and applicable than here in Canada, and particularly in BC and Ontario."
The Spanish glossy wine mag, Sibaritas, gives Wine Politics four stars (out of four)!
Jeff Lefevere of the blog Good Grape, features briefly in Wine Politics as Mr. Frustrated Wine Consumer in Indiana, writes "this book should be required reading for all wine lovers. Everybody." And then he proceeds with ten things that he learned in the book. Check out his list!
Finally, Thomas McGowan calls it "eye opening" and a "must read" in his review on Amazon. If you liked the book and don't have your own blog, consider heading over there and posting your comments.
Thanks to everyone for the support and I hope you enjoy the books too!