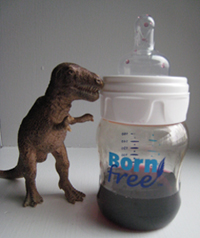 Intrigued by the notion that an entire restaurant will be opening in Manhattan tonight with baby bottles for stemware, I decided to try this vessel out for myself. Since we have two lads, one of whom is baby bottle age, I had to go no farther than my own kitchen.
Filling it up with some red from last night, I took a sip of the wine before screwing on the lid. Still passable on day two. I screwed on the lid. I sucked.
Mrs. Vino: "Obscene!"
Me: "Frustrating!"
It was kind of like having a governor on your car that prevents it from going over 50 miles per hour. Or 5 miles per hour as the case may be since a mere drip escaped at a time.
I tried a fresh aromatic white. Sipped with the lid off, I got lots of nice aromas of tropical fruits etc. Once I screwed on the rubber nipple, those aromas were trapped! I felt like one of those subjects in the Cal Tech study. Yes, it's a $100 wine! Whatever you tell me! Just give it to me in a glass!
Prediction: within a week, the restaurant will be offering normal stemware as well.