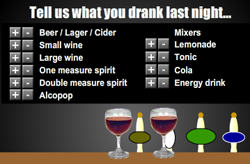 The excellent blog The Consumerist posted yesterday about a BBC web site that converts drinks into calories and then into their food equivalents. Meg Marco, the post author, called the results "terrifying."
I plugged two "large glasses of wine" into the calculator, which suggested 335 calories, and this is what it generated as food equivalents: a slice of pizza, an onion bhaji, and two jaffa cakes. Well, yes, I suppose that could be terrifying if I knew what two of those things were! So I ran it again and it said that it was the equivalent of a hamburger and a jaffa cake! Wow, the jaffistas really control that widget!
Clearly, there are many variations of a slice of pizza, some more caloric than others; ditto for hamburgers (sliders?). And we've previously discussed how the calories in a glass of wine can change too. But the basic point remains true: wine has calories and those calories can be converted into potentially terrifying food equivalents! Or they could be translated into non-terrifying food equivalents: 335 calories of granola is not going to really scare anyone.