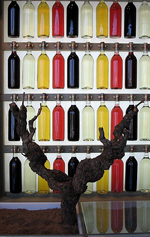 Buyers wanted
The IHT reports that fine wine buyers "are pushing back." Separately, wine auction house Acker Merrall gives potential buyers come hither eyes and cuts their buyer's premium to 18 percent; Zachys responds by going to 17 percent.
Adieu, Copia?
Copia, the wine, food and art museum and restaurant in Napa City, closed on November 21 and has filed for Chapter 11. The original $55 million in funding came at least half from Robert Mondavi. The NYT promises more coverage tomorrow. [Diner's Journal]
Biodynamics is poop
In what promises to be a salty interview, French actor-vintner-restaurateur Gerard Depardieu–who once joked that his mother's amniotic fluid was actually wine–disdains biodynamics claiming the vineyard treatment "doesn't exist." Then he claims that he uses biodynamics at his Chateau de Tigne property in Anjou only because he is "poor." [Decanter]
Michigan: no delivery?
A federal court struck down Michigan's law that prohibits out-of-state retailers from shipping to Michigan residents while allowing local wine stores to deliver. While the case is on appeal, a new bill in the legislature tries to create a level playing field–by preventing local wine stores from delivering! See the op-ed against the bill in Crain's Detroit Business.