After so many suggestions in magazines, food and dining sections about which wines should be on your table, and probably a fair amount of going back and forth, which wines did you pour for Thanksgiving? What worked and what didn't?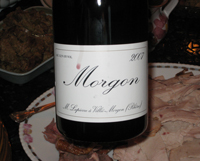 Some local friends and their extended family welcomed us to their celebration this year so it was an "away" Thanksgiving for us. We brought some wine, which included a Taittinger brut nonvintage champagne (find this wine), a magnum of Marcel Lapierre Morgon 2007 (find this wine), and a bottle of the (in)famous Palin syrah (find this wine). The Champagne was very good and well received. The Lapierre was lighter than I recall the '06 being but still excellent and even my friend who really prefers "big reds" admitted that it was a really fine wine (someone else said it was the most beautiful wine bottle he'd ever seen!). The Palin syrah was horribly corked, not much different than the erstwhile veep candidate. Fortunately some more Champagne emerged from the other guests.
In case you're curious what other people around the world tried, click here to see the 5,500 bottles consumed on 11/27/08 and entered (so far) into cellartracker. Domestic wines prevailed with Kistler, Kosta Browne, Peter Michael, Ridge, Seghesio, and Turley coming the first six places.