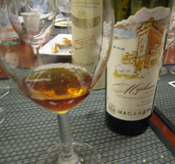 The most recent session of my six-week introductory wine class at NYU wrapped up last week. We like to end the class in style: a giant edition of show and tell and taste. For some odd reason, Mrs. Vino always refers to this as the party, but no! It is an assignment!
Each participant brings in a wine to present to the class, which means we get to taste about 25 wines that evening. Good times! And ever since I banned people from getting wines at the closest store to our venue, a store that seems to specialize in unearthing wines that have been stored next to the boiler for several winters, the quality of the wines has risen tremendously and people really have a lot of run exploring the wine shops of the city. Some people brought in bottles from trips to wineries in New York and California, and others were looking to try something out on us before pouring it at Thanksgiving. Here are a few of the highlights from last week:
One woman brought in a Bordeaux from her birth year: 1982. I didn't catch all the details but in the 1980s, her father represented someone's estate that was short on cash and long on wine thus he ended up with 100 cases of 1982 Bordeaux. Since that was a legendary vintage, the payment might actually have been better than cash if it were not for the fact that the chateau "used cheap corks," according to the woman who brought it in. Now almost all of the bottles have been oxidized and the one she brought from us was, sadly, over the hill. When she gets married next year, they will also have wine from her fiancé's birth year, 1983, to hedge themselves.
Another participant brought in a wine from Hungary, the Tibor Gál Egri Bikavér 2002 (find this wine), a traditional wine from Eger known as "Bull's blood" (mmm! Any vegetarians in the house? Just kidding; it's metaphorical.). He had thought ahead enough to buy several bottles from an online retailer for about $10. The wine was brick color and should be consumed in the near term. Sadly, Tibor Gal died too young in a car accident in 2005. This wine helped us two on our goal to the Wine Century Club since it has 40% Kékfrankos, 30% cabernet franc, 15% syrah, 5% Kekoporto, 5% pinot noir, 5% cabernet sauvignon.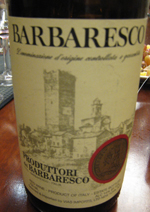 Someone else brought in the Produttori di Barbaresco, Barbaresco 2004 ($30; find this wine) after trying it at the wine shop Vino. It is a delicious young nebbiolo from a co-op in Piedmont that I will absolutely look for again. Incidentally, the gentlemen who brought this in did so because he had red that tannic red wines have anticholesterol properties and he had understood this wine to be tannic.
Finally, we tried a "white muscat from the red stone," which sounded to me as if it will be the next Indiana Jones movie. In fact, it is a dessert wine from Massandra, a well-known producer in the Crimea where there must also be a "red stone." Our presenter brought it from her mom's private stash, collected on twice yearly trips to Ukraine, her native country. The packaging was quite ornate and included not only a wax seal over the cork but also a string tying it down–a sort of vinous chastity belt? At any rate, once I pried it open, the wine inside was an amber, unctuous dessert wine, a sweet finish to our great class.