SIPPED: too much
As G-20 leaders met in Washington this weekend while the economic world burns, they sipped Shafer Hillside Select 2003, a $250 Napa cab (find this wine). This raised the hackles of bloggers at CNN (perhaps because they could only find it for $500?). The era of the teatotaler-in-chief is soon over! (Thanks, Arthur!)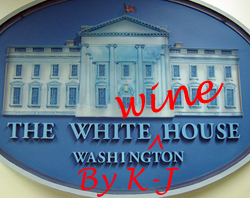 SPIT: too little
An eagle eyed publicist at Kendall-Jackson spotted a mention of their Chardonnay in an interview the Obamas did with People magazine. The maker of this supermarket staple then sent "a few congratulatory cases of the brand" to the Obamas, care of the Democratic National Committee. Celebrate a historic victory such as his with a $12 chardonnay? But what did Shafer send them?
SPIT: Sauvignon blanc
NYT restaurant critic Frank Bruni goes public about his dislike of Sauvignon Blanc as he tasted one from California, "he offered a grimace and a cry of anguish." And what did his colleagues do to him after that. Why, laugh at him. Get the full story and their wine picks for turkey day in Eric Asimov's column.
SPIT: 2008 Hospice de Beaune
The climate, both meteorological and economic, put a damper on the annual charity auction for barrels of red Burgundy. [Reuters]
SPIT: celebrity wine
Michael Vick's 22 dogs will appear on a new wine line called "Vicktory Dogs." A portion of the proceeds benefit the shelter in Utah where the dogs now reside. [ESPN]