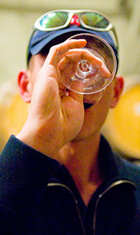 A couple of weekends ago, I attended the grand re-opening of Wine Connection in Pound Ridge, NY. Max Marinucci moved his store to a handsome, custom-built facility and it was an amazing tasting by any measure. There were about six Barolos available from producers that ran the modern-traditional axis, E. Pira, G. Mascarello, G. Conterno, and Sandrone among others. They also poured the 2004 Hudelot Noellat Richebourg (about $259; find this wine), and several current release Bordeaux. Then there was the amazing 1985 Leoville Las Cases (about $379; find this wine), whose aroma was so enticing with tannins were smooth as silk.
And the price for this tasting? Free.
In this tough economy, even seeking solace in a wine glass can still cost a lot. But there is one place where you can still taste fine wine for free: New York wine stores. Granted, you're standing up and the pours are sometimes barely enough to cover the bottom of the glass, but they are a great opportunity for broadening your tasting experience–as well as talking with some interesting people who are usually doing the pouring.
While there are many silly (separate entrances for separate licenses) and annoying (not being able to to sell cheese in a wine shop nor wine in a food shop) aspects of New York wine retail laws, the free tasting is a definite boon for consumers. Stores can't charge for tasting since that would be profiting from the sale of liquor on-premises, which requires a different license. Other states have different rules about in-store pourings and they are not always free, but are often a good value. (Sadly, one place where free tastings may someday be illegal is the little-known wine country called France.)
And the downturn in the economy means that some shops are eagerly pouring wines (or, technically, having the distributor reps pour the wines) to attract foot traffic. So check out your local retailers and see what's on the calendar. Here's my map of my favorite NYC wine shops.