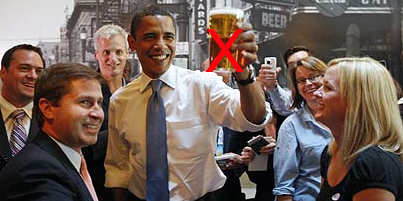 Obama beat McCain by 53 – 46 percent in the popular vote. The logic of the electoral college broadened this to a 68 – 32 percent victory. But there's one core constituency where Obama thrashed McCain by an even wider margin: the wine vote.
Obama took nine of the top ten wine consuming states (Texas, the fourth largest wine market, was red) as well as 17 of the top 20 (Georgia and Arizona are 13th and 14th) using 2006 data on wine consumption from Adams Wine Handbook. Those states alone would have been enough to win the electoral college with 276 electoral votes for Obama. Overall, blue states this year were thirsty for wine, putting back a total of 80.8 percent of all wine consumed in America.
McCain captured nine of the ten states with the lowest consumption (Vermont was blue).
And in case half-bottle sized Vermont raises the question of whether the data per capita (of drinking age) were different, Obama actually took all of the top ten thirstiest states per capita and 18 out of the top 20. McCain took 14 of the bottom 15.
Drink wine, vote Democratic? Forget Joe Six-Pack, this year the path to the White House was through the wine glass.
Finally, and prosaically, Illinois was the number two state (behind much larger California) for Champagne and sparkling wine. I'm sure that figure went up after last Tuesday night.
Total gallons of wine consumed in blue states: 228,563,000 or 80.8 percent of the total. The top twenty wine consuming states roll after the jump.
California
Florida
New York
Texas
New Jersey
Illinois
Massachusetts
Washington
Pennsylvania
Michigan
Virginia
Ohio
North Carolina
Georgia
Arizona
Connecticut
Maryland
Colorado
Oregon
Wisconsin
Fellow wine blogger Jon Bonne crunched the numbers differently, looking at wine production and voting behavior, finding that states producing 99.6% of American wine were blue this year. [SF Chronicle]