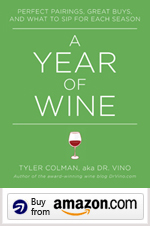 Timed strategically to drop after the election and before the holidays (but on Veteran's Day, a holiday itself!), today is the official release date of my new book, A Year of Wine: Perfect Pairings, Great Buys, and What to Sip for Each Season!
Instead of traversing the familiar terrain of regions or grape varieties, I forge a new path by plotting a seasonal arc for wine consumption. This ties in to the way that I enjoy wine, by emphasizing the context of how, where, when (and with what and with whom) we drink wines, as well as linking to the trend of seasonal cooking that is so prevalent today among professional chefs and home cooks. I'm glad that this theme resonated with so many of you in our previous discussion.
The book has short essays and hundreds of wine recommendations across the twelve months of the year. There should be something for wine lovers of all levels, newbie to full-on wine geek. There's also some information for all seasons about wine style, wine service and how to actually find good wines near you. And twelve wine travel sections help you even change your context for maximum wine enjoyment.
Alex Eben Meyer contributed the great illustrations. Check out his excellent portfolio at his site!
And a total of thirteen sommeliers lent their thoughts to the volume. They include: Richard Betts (The Little Nell, Aspen, CO); Shayn Bjornholm MS (Washington Wine Commission); Thomas Carter (Blue Hill Stone Barns, Pocantico Hills, NY); Belinda Chang (The Modern, NYC); Christie Dufault (Quince, SF); Erik Liedholm (Seastar, Seattle); Rajat Parr (Michael Mina Group, SF); Shelley Lindgren (A16 restaurant, SF); Roger Morlock (Park Avenue Seasons, NY); Virginia Philip, MS (The Breakers, Palm Beach); Tysan Pierce (The Herbfarm, Woodinville, WA); Juliette Pope (Gramercy Tavern, NYC).
So check out the book's page over at Amazon (or Barnes and Noble or Powell's if you prefer) and see what Kermit Lynch, Eric Arnold, David Lynch, and Bobby Abreu had to say on the back cover. Or ask for the hardcover at your local bookstore and check it out in print. And if you do get it, let us know what you think of it here!