Bloggers around the world picked up a copy of my book, Wine Politics: How Governments, Mobsters, Environmentalists, and Critics Influence the Wines We Drink, this month for the latest installment of Wine Book Club. Many thanks to all who participated and especially to Dr. Debs, founder of the bi-monthly Wine Book Club, and the one who selected my book to be put before the group this time around.

In related news, I just found out from the book's publisher, the University of California Press, that the rights to a Korean language translation of the book have been sold! I plugged the whole title in to Google Translate in order to warm up to the Korean wording. The adjacent image is what I discovered: hmm, "mobsters" really stands out! I'm glad they don't have those in Korea! On to the roundup!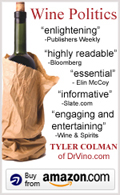 Dr. Debs at Good Wine Under $20
Richard at A Passionate Foodie
Kori at WinePeeps
Frank at Drink what you like
Taster B at Smells Like Grape
Jim at Wine & Music
Christianne at Christianne Uncorked
And also Evelyne at Wine Brands
Thanks and cheers to all!