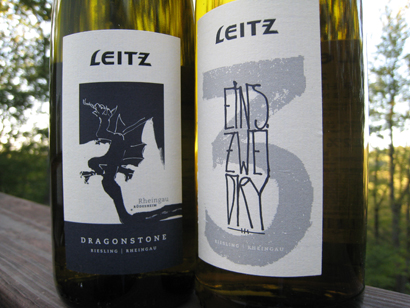 "I immediately assume that the wine is garbage if the punniness is high," one of my friends said recently. Fair enough, as we have discussed before. But then there is the case of Johannes Leitz.
While many European labels can be confusing for New World consumers who are more used to varietal labeling, German labels crank up the degree of difficulty by adding terms such as Kabinett, Spaetlese, and–my favorite, linguistically–Trockenbeerenauslese. Although these terms express roughly the degree of sweetness, they only do so for the wine before fermentation (aka the weight of the must), so the level of residual sugar after fermentation may not be as sweet or dry as one might expect. Throw in some vineyard names on top of those terms and it makes running for Blue Nun understandable–from a purely linguistic standpoint.
Johannes Leitz, by contrast, makes some easy reading labels as well as tasty wines. He turned the Rudesheimer Drachenstein vineyard into simply "Dragonstone"–a cool label, easy name and easy drinking Riesling that I often recommend particularly as a wine for newbies. The single site, estate bottled wine is sweet in 2007 but obtains balance with some tangy acidity and minerality (find this wine). Pair with takeout.
New for 2007 is his multilingual punny "Eins, Zwei, Dry" (find this wine) The Riesling is, in fact, dry (well, 7 grams of residual sugar, barely above the threshold of perception). Dry Rieslings often seem to only come from the New World and Leitz only first produced this dry wine in the spectacular 2007 vintage (more details from the importer, Terry Theise's page). The wine has more minerality and verve. I'd find this one most refreshing on a hot summer day with the Dragonstone one for the spring and the fall, when I prefer more richness.
Johannes Leitz has wit. And he makes clear labels good wines. He has my vote for federallabelminister! But I also think he is a rare exception, joining Rosenblum and possibly Bonny Doon, to the rule about puns and wine quality.
Do witty labels and good wine make a good blend? Or is the wine best left to do the talking?