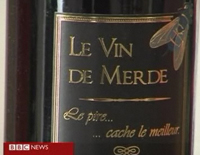 SIPPED: ironic labels
In 2003, a French publication was fined for calling Beaujolais "vin de merde," or, "crap wine." Although the fine was eventually overturned, what critics can say about wines is still a touchy subject. But producers themselves can say what they want and a producer in the downtrodden Languedoc region has now rolled out a wine labeled "vin de merde." According to this BBC video, the seven euro wine has now sold out. Goodbye critter labels, hello irony?
SPIT: anonymity
A few weeks ago we noted the power of the Japanese wine-imbued comic "The Drops of the Gods" and called for the unveiling of the brother-sister duo who actually make the picks. Today, the NYT does our bidding! Learn more about the power of Shizuku, a quirk in their 3,000 bottle cellar, and why the comic has been translated into French before English.
SPIT: vodka?!?
Poland appears to be the latest beneficiary of global warming in the wine world. [BBC]
SIPPED: Terroir de New Jersey
The latest New Jersey winery, Laurita, opened to the public on last month. Will it rise above the inevitable Jersey jokes from New Yorkers? [NYT]