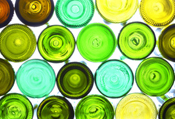 Come spend a night at the museum! I can't promise that Ben Stiller will be there or that the dinosaurs will come alive but hopefully it will still be a good show.
As a part of the launch to their new exhibit "Climate Change: The Threat To Life and A New Energy Future," I'll participate on a panel at the American Museum of Natural History about wine and climate change on October 28. Gregory Jones, a leading researcher on how climate change affects wine growing regions, will be flying in from Southern Oregon University. I'll be talking my own research findings about the carbon footprint of wine. And Evan Springarn of David Bowler Wines, an importer and distributor, will talk about the various shades of eco-wines. Best of all, he'll be bringing four such wines for us to taste!
Head on over to the AMNH web site to book your tickets ($20) now and prepare to stimulate the mind and the palate.