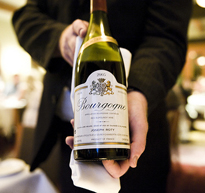 Frank Bruni, restaurant critic for the NYT who also moonlights as presidential debate analyst, has an expose in today's paper about unequal treatment of men and women in restaurants. Is it chivalry or chauvinism, he wonders. To the tape:
Because men can generally put away more food and alcohol, "men spend more, women spend less," said Steve Dublanica, author of the recent best seller "Waiter Rant." In addition, he said: "Men eat and leave. Women eat and stick around." So a server attending to women may have to wait longer "to turn the table over, get another group, get more tips."
In a follow-up blog posting, Bruni added this tidbit too from a restaurant veteran: "When drunk," she told me, "men fight, and women vomit." (Except for Jermain Dupri who vomits in his girlfriend's (Janet Jackson) lap after which she squealed and had her driver high-tail the Maybach outta there.)
Do you encounter different service at restaurants, particularly when it comes to wine service such as ordering and sampling the bottle? If so, is it supremely annoying or entirely appropriate?