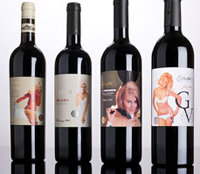 The Wall Street Journal recently got in the act of selling wines. Now Playboy doesn't want to be left, um, behind.
The magazine has collaborated to put "iconic images on a new limited-run collectors' wine series," according to a press release. Limited runs of wines will be "hand-chosen" by "credible master wine sommeliers who also were tasked with selecting the magazine cover that they feel best represents the flavor and taste profile of each wine." Yikes, what an assignment!
But these are old wines in new, airbrushed wine skins with about 60 percent markups: The Schug Heritage Reserve Cabernet 2003 is easily available for under $50 (where to buy?) but with their label it is $86; the St. Supery Dollarhide Cabernet Sauvignon 2003 (where to buy?) is available for about $70 but with their label it is $112.
Their label for the Schug is particularly, erm, revealing; how did they get this by those dour, green-visored regulators at the Treasury Department? The "peel away" label no doubt helped. And to think that 1993 Mouton label by Balthus, a line drawing, was too much for them to approve.
After the jump, if you dare, click through for a comparison of the banned Mouton label with the current one from Playboy wines!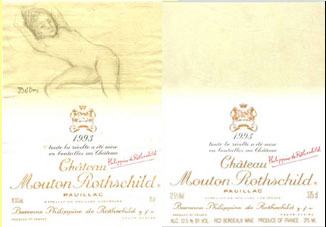 1993 Mouton (where to buy?) labels: Europe on the left, USA on the right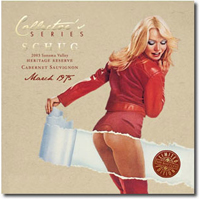 An offering from the new Playboy wines