SPIT: financial turmoil
Mike Steinberger provides some advance evidence that the financial crisis will not upend America's fifteen year bull market–for wine consumption. But the make-or-break fourth quarter has just started! Stay tuned, and keep pulling corks. [Slate]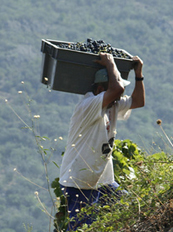 SIPPED: wine investment (alpacas optional)
The WSJ finds a stay-at-home dad who has sunk $120k into 400 bottles of 1996 Champagne, quoting him saying: "It sure beats looking at a Merrill Lynch monthly statement." Um, I think he means Bank of America. But nice call on the 96 Champagne! Also, the FT also reports on individuals and funds who are socking away blue chip red wine.
SIPPED: Portugal!
British photographer and journalist David Eley has launched a site with some impressive photography and producer profiles from his travels in the Duoro. Mmm, sun-drenched hillsides, good wines.

SIPPED: JetBlue terminal
About 400 wine choices await travelers in the new JFK JetBlue terminal, half of them by the glass–let's just hope there's something good. And with the free wifi in that terminal already, JetBlue is on the inside track to become the unofficial airline for wine bloggers. [NY mag]
SIPPED: Tropical wine! ("for tourists")
What do you get when you combine a stiff 170 percent tariff on imported wines, a strong tourist economy, and tropical conditions? Why, Bali, the Indonesian island and new wine frontier. But Pinot Noir, move over since you'll have to settle for a glass of Probollingo Biru. [IHT]
SPIT: Italian wine
When Italian wine bloggers get together, they drink Mexican beer apparently! Oh okay, and Produttori di Barbaresco Barbaresco with smoked pork ribs.