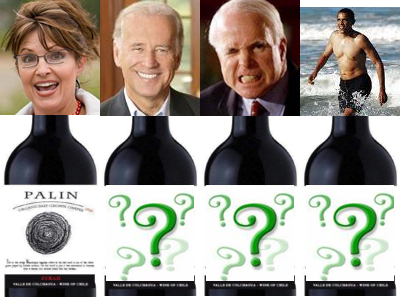 Last week we heard about the Palin syrah and because it's organically grown in Chile, we knew it was the perfect wine for the veep wannabe, Sarah Paleen (as they say in Alaska, methinks). Check out reader Nate's tasting note.
In anticipation of this Thursday's debate (when we will need mucho vino), put your country first and decide which wine is best suited to each of the three other candidates! I already had my say during the primaries, so now it is your turn.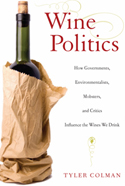 To sweeten the pot, I will be giving a away a signed copy of my book, Wine Politics: How Governments, Environmentalists, Mobsters, and Critics Influence the Wines We Drink, a book in which none of these four candidates is mentioned!
Post your pairings for the non-Alaskan candidates here in the comments. Friday after 3PM Eastern, check back to see the winner, selected at random. Everyone, to your snow machines!