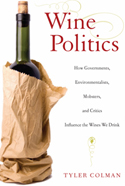 It's been a little while since I did one of these roundups–and not sure they are of real interest to anyone but my mom (hi mom!)–but here's another roundup of my book, Wine Politics: How Governments, Environmentalists, Mobsters and Critics Influence the Wines We Drink, in the news!
Wine & Spirits magazine gave the book 100 points! Or, no, wait, that was the Chateau Latour 2005. But they still had kind words about the book in a review in the October issue calling it "engaging and entertaining!"
The omnivorous Mike Sula asked me several questions and I saw his questions with answers! [Chicago Reader]
Colin Marshall had me on his radio show, Marketplace of Ideas, for a 53 minute discussion about the book. Check out our discussion via iTunes or in his show archive. Actually, poke around the archive for other cool interviews with the likes of my almost doppelganger, economist Tyler Cowen, as well as Steve Wozniak, a founder of Apple Computer, Slate economic columnist Tim Harford, NPR's Peter Sagal and more.
University of California Press also recorded a (shorter!) podcast. You can also hear from John Winthrop Haeger, author of North American Pinot Noir in another recording on their author podcast page.
The good folks at the New Hampshire Public Radio show, Word of Mouth, were kind enough to have me on. We talked a lot about box wines but also got into the book a bit too. Always fun to talk to an audience in a control state! [NHPR]
Thad at Beyond the Bottle, a wine blog that focuses on the Pacific Northwest, had very kind words!
And Porthos, an Italian wine site had words to say, unfortunately all in Italian!
And if you've been waiting for a chance to read and review the book, why not tune in to Wine Book Club?! Every two months they choose a new book for everyone to review and Wine Politics is next up. Read it now and join other bloggers posting reviews on October 28. I'm looking forward to it. Let me know if you have a blog and review the book and I will gladly post a link on this site to your review. But no blog is required to pick up a copy!