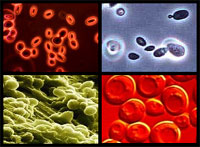 The next time you hear a wine maker extolling the virtues and distinctiveness of the vineyard, a good follow up question might just be to ask about the yeasts used in fermentation.
Yeasts may be boring, invisible agents of the fermentation process but they have been getting more attention recently. Jancis Robinson is the latest to focus on them in her column from Saturday's Financial Times, "Forget the grapes, it's a cultural thing." To the tape:
The overwhelming quantity of wine on sale today was fermented using commercially available strains of yeast, yeasts specially chosen for their particular and powerful attributes…One prominent New Zealand winemaker claims…that he can make any required style of Sauvignon Blanc from exactly the same grapes, provided he can choose the yeast. The following thoughts have been inspired by Chardonnays that taste like Sauvignon Blancs, a raft of indistinguishable New World Syrahs, and my sense that the flavour spectrum of wines today seems narrower than it has ever been.
She then describes some of the characteristics. Enoferm Assmannshausen®, for example, suggests that it be used "for making Pinot Noir and Zinfandel. It is considered a color friendly strain that enhances spicy (clove, nutmeg) and fruity flavours and aromas." Lalvin CY3079® is designed "for barrel fermented Chardonnay and aging on lees. Gives rich, full mouthfeel and aromas" while Uvaferm SVG® is designed "to enhance typical Sauvignon character, diminished acidity and with good fermentation kinetics."
While methods of grape growing and vineyard sites are certainly important, yeasts deserve to leaven the discussion of winemaking more than they do.