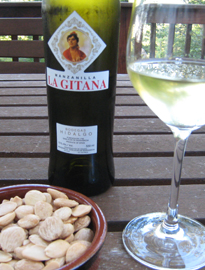 One of my private tasting clients asked me an unusual question recently: which wine goes with almonds?
The answer was easy: sherry. A much misunderstood wine, it's not just for sherry hour in the faculty lounge any more–it is distinctive and makes a great aperitif. And probably because of the confusion, it's also a great deal.
In order to try this out, I bought the Hidalgo La Gitana ($10; find this sherry) and got some marcona almonds. On it's own, chilled, the sherry is tangy and briney, refreshing and appetizing. But with the marcona almonds from Spain, the whole experience was elevated in one of those classic food-wine pairings that brings out the best in both.
And a little sherry goes a long way; we were able to have three evenings of aperitifs from the same $10 bottle. It may be the ultimate wine for an economic downturn. Pity the almonds were $16.99 a pound.
For more background on sherry, check out Eric Asimov's recent article in the NYT.