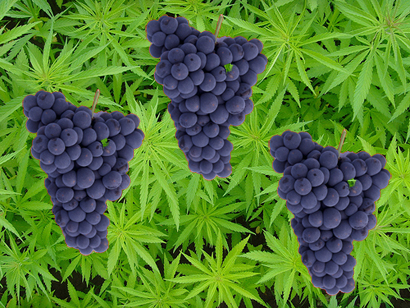 SIPPED: cover crops!
Antidrug officials in Washington State have discovered something other than grapes in the vineyard–marijuana plants! Yes, this budding business of cover crops had a street value of $165 million according to today's WSJ. Fingers point at immigrant workers–someone alert Lou Dobbs! Oh, and the vineyard manager. These vineyards may soon rival Mendoza for the "highest" in the world.
SIPPED: competition!
Amazon will soon be in the business of selling wine according to the spokesperson for the Napa Valley Vintners, who spilled the beans to Reuters.
SIPPED: a smaller carbon footprint of wine!
Two producers in areas with large carbon footprints are lightening the load in the name of generating fewere greenhouse gas emissions in transit. Huzzah! Champagne house Mumm experiments with lighter glass bottles and Boisset introduces a plastic bottle for its Beaujolais nouveau.
SIPPED: French litigation
Critic Robert Parker's former assistant sues him in a Paris court for defamation after he wrote on his site that she "could end up stagnating in prison." Meanwhile, she fends of charges herself in a Bordeaux court. [AP]
SPIT: human wine critics!
In Japan, a 20,000 shipment of Burgundy or a New Zealand riesling can sell out thanks to even a "dreamy sigh" from Shizuku Kanzaki. The only trouble is that he doesn't have a pulse–he's a comic book character with 500,000 readers! He's on a quest find the "Twelve Apostles" — a collection of wines described in his father's will. So who is the man behind that curtain who actually writes the story and picks the wine? Actually, a brother-sister duo going by the pen name Tadashi Agi. Unmask them, Japan's wine movers and shakers! [Times online]
SPIT: red wine substitute
Embodi, a new "health beverage" contains "a specially developed grape pomace extract made from the skins, seeds, and stems of red wine grapes." Hmm, which vintage is that again?