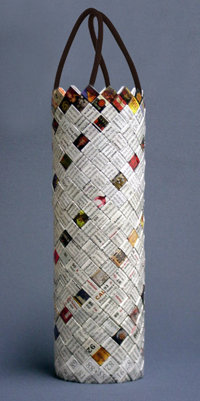 Site reader Katie has taken the old mantra of "reduce, reuse, recycle" to heart. Instead of merely recycling her old wine magazines she is know weaving their pages into handsome wine totes.
She wrote via email: "I weave the entire thing….got the idea because they are making purses now from recycled candy wrappers, potato chip bags, etc…so I thought, why not magazine pages? I covered each piece with a layer of packing tape so it would be waterproof and then figured out how they weave the purses together…then it was just a matter of altering size, and creating a pattern with the color. The inside is lined with a canvas pouch to carry the weight of the bottle."

She also doesn't hide her disdain for the magazines' penchant for giving wines a score out of 100, which carry a false sense of objectivity–and don't tell you which wine goes with duck breast, she adds. So now she says she "finally" has a use for the mags.
Related:
Katie's new blog, Gonzo Gastronomy
HOWTO: make a furoshiki wine carrier