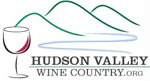 Just because Hudson Valley, NY is not the first location when you think of American–nay, New York–wine, that doesn't mean they haven't been growing grapes there for a long time.
The 28 wineries in Ulster, Dutchess, and Orange counties have launched a new web site to boost awareness of their new but old region. They claim "the country's oldest vineyard can be found in the Hudson Valley," dating back to 1677. Whoa! Them's fightin' words!
While the site offers itineraries, history and links to wineries, I have to wonder about the authenticity of one of the pictures. Consider this picture on the left, from their site. Compare to the photo that we pondered earlier on the right, which is a cellar in Hungary with the distinctive red banding on the barrels and the bare bulb illumination.
If the cellar depicted on their site is REALLY in the new/old Hudson Valley, then I will go to that winery and visit!