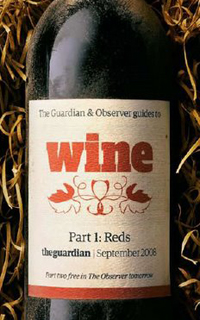 Two Buck Chuck, the celebrated wine that debuted at Trader Joe's several years ago will never have a British equivalent, Two Pound Chuck. Why? Taxes.
The duty on a bottle of wine under 15 percent alcohol in the UK is £1.46. Throw in VAT at 17.5% and you can see why it is essentially impossible. Even wines under £4.99 have a distinct aroma of taxlicious since 40% of the price paid at the register ends up going to HM Treasury.
That's one of the things I learned writing a short piece about wine politics for The Guardian & Observer guides to wine, which appeared on Saturday on news stands in the UK (a second part of the guide will follow shortly and I have another piece in that). Fortunately, since I can't pop down to a WH Smith and pick up a copy, the full contents of the section are available on the Guardian web site. Be sure to check it out for more fascinating articles by Jancis Robinson, Steven Spurrier and others.