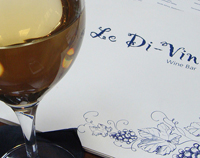 If you've wanted to work for the Church of England but have felt constrained by the whole clergy thing, Birmingham Cathedral in England may have just the position for you: sommelier.
According to this article, the Cathedral has hired a new "director of hospitality and welcome" away from a department store. He plans to open a chain of wine bars in the downtown area as well as implementing "loyalty cards" for regular parishioners (on the tenth worship you get a tall glass of forgiveness?).
Mark Hope-Urwin, the new director, said: "We're not trying to encourage drinking, but the cathedral has to engage more with the city and find ways of meeting people on their territory."
Perhaps educating parishioners about wine will lead to an upgrading of the Communion wine? Wouldn't want them to spit that, after all.
Hit the comments with your thoughts on what's on the wine list at an Anglican wine bar!