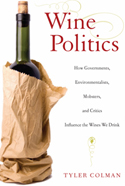 As the summer winds down, a few more events start up for my book, Wine Politics: How Governments, Environmentalists, Mobsters and Critics Influence the Wines We Drink. I hope to see you at one of the events!
August 31: Palmer Vineyards, Aquebogue, on the North Fork of Long Island, 11:30 AM. A talk with host Larry Davidson in the last of this year's "Writers on the Vine" series. $11 admission fee, which includes a glass of wine. No reservations necessary.
September 11: Signing at Crush Wine & Spirits, 57th St between 3rd and Lex. 5:30 – 7:30. French wines relating to themes in the book will be poured! Drop in any time!
September 18: Rebel wines from France. A talk and a tasting at the West Loop wine shop, Just Grapes, Chicago, 6 PM. Pre-reserve now
September 19: book signing at Sam's Wine, Lincoln Park, 5-7 PM. Drop in any time and say hi!
September 20: University of Chicago, "France and America: Wine Politics and a Tasting Showdown." I always look forward to these Saturday afternoon seminars and this one will be particularly fun since we will discuss the themes of the book, and then taste excellent wines from the two counties. All participants will get a signed copy! Note: this is at the Gleacher Center, 2:30 – 6:30 PM. Advance registration essential since these sell out!
And there's always my NYU class, "Becoming a Wine Expert," starting October 15 for six consecutive Wednesday evenings.
October 28: panel on wine and climate change, American Museum of Natural History. Details to follow closer to the date.