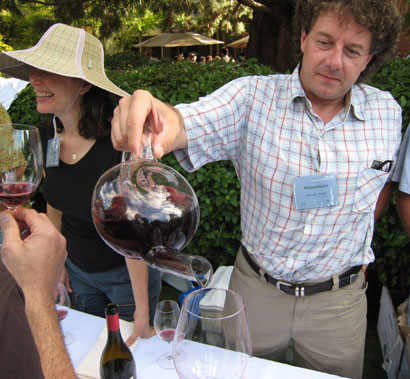 Mike Steinberger posted a piece to Slate.com on Friday detailing the folly French appellation politics (entitled "How Bureaucrats Are Wrecking French Wine"). I'm glad to see the topic getting a broader airing since it is at the heart of my book, Wine Politics, which Mike kindly mentions. But go check out the article and see Mike's plan for AOC reform if he were French wine czar for a day.
Mike mentions the growing ranks of quality producers who have had wines refused by the tasting portion of the appellation process. When the list includes names such as Jean Thevenet, Didier Dagueneau, Eloi Dürrbach, Marcel Lapierre, Thierry and Jean-Marie Puzelat, Marcel Richaud, Georges Descombes, and Philippe Jambon, you've got to wonder if that doesn't say more about the appellation politics itself. But there's one other notable rule breaker who could be included in that list: Philippe Pacalet.
I caught up with Pacalet at the IPNC last month in Oregon–his first visit to the U.S. In the above picture he poured me a taste of his absolutely delicious 2005 Pommard, light in color and body with terrific aromatics, from a tea kettle shaped decanter (find this wine).
Pacalet is the nephew of Marcel Lapierre, one of the leaders of natural wine in France whose scrumptious Morgon 2006 I've mentioned before. In the 1980s, he developed an affinity for natural wines working with his uncle and Jules Chauvet, an important figure in the early days of natural wines in France. Today, he is a winemaker but doesn't own any vines–he rents. He explained that he does not add sulfur to the grapes after harvest, works with the indigenous yeasts, and doesn't add enzymes or tannins. (See this SF Chronicle article for a backgrounder on sulfur and sulfites; Pacalet does use some right before bottling.)
While I was standing in line at the final salmon bake dinner with Jamie Goode, author of The Science of Wine, Pacalet told us that he believes that much of the vinifera vines in France have been weakened by generations of inbreeding, which makes them susceptible to disease. His solution would be to genetically modify the vines to have greater disease resistance, which would reduce the need for spraying. Pretty provocative for a natural winemaker.
At breakfast the next day (IPNC is like a reunion weekend for pinotphiles), Pacalet told me that his 2005 Corton-Charlemagne was denied the appellation, which meant for him "30,000 euros in the trash." When I asked him why doesn't make it as a lowly vin de table and join the list of producers above, he said "I don't pay taxes to make a vin de table."
Since then, he's become a member of the Corton-Charlemagne syndicat, or the rule-setting board of local producers.