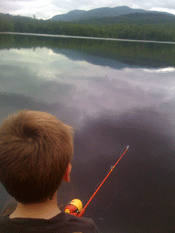 I'm just back from a week in the woods of the Adirondacks. It was a fun time with my siblings and families though at times the theme of seven days with seven kids under seven seemed like something dreamed up as the next reality TV show. But nobody got thrown off the proverbial island. Here are some things I learned on my summer vacation:
* If a tree falls in the woods and you're there, it does make a noise.
* The 2007 Von Volxem Saar Riesling disappears in a scant few minutes when uncorked with a group! And deservedly so with a beautiful balance of sweetness and acidity. (find this wine)
* A lambrusco from an artisanal, however, remains unfinished. Fun, purple, fizzy wine but a tannic monster!
* The Domaine Guion 2005 cuvee prestige from Bourgeuil in the Loire is a red that everyone can enjoy. (find this wine)
* The Marcel Lapierre Morgon 2006 that I have enjoyed previously was also a big hit! (find this wine)
* I found a new favorite wine for my sister who claims not to like wine! More on that later.
* Lots of kids fishing from the same spot can lead to tangled lines.
* Junipero gin from San Francisco (find this gin) is superb on the rocks, not so good with Schweppes Tonic water (because of the Schweppes) but quite good with Pom juice and a dash of simple syrup on the rocks though the alluring aromas are compromised.
* Use the iPhone camera only if you leave the other camera in the car.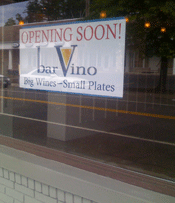 And one final observation: in the small town where we were staying, deep in the woods where it took three people to determine the location of tofu in the supermarket, there's a new wine bar opening! Unfortunately it wasn't open yet but I take it as yet another indication of how far enthusiasm for wine is going in America. We'll see if it's still open next summer!