Portland is a city known for micro-breweries. Starting this fall, there will be a micro-winery as well.
John Grochau of Grochau Cellars and Stewart Boedecker and Athena Pappas of Boedecker Cellars will make their first vintage in the northwest industrial district of Portland this fall. Dubbed the Portland Wine Project, the shared space of about 10,000 square feet is at 30th St and NW Industrial just across from the Pyramid Breweries (map it). They anticipate being able to receive visitors by Thanksgiving.
Grochau built his winemaking skillz at Erath and Brick House Wines but paid the rent working the front-of-house at Higgins restaurant for 13 years. He has been making his natural wines (no added enzymes and rarely added yeasts) thus far at a facility in Newberg, roughly 30 miles south of Portland, while living in Portland. Last year, he had to go to Newberg 63 consecutive days and/or nights around harvest. "My wife has a job and I like spending time with her," he told me at dinner recently at Nick's Italian Cafe in McMinnville.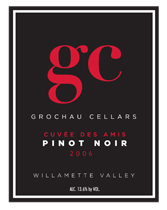 Bringing the winemaking to Portland will not only afford him more time with his wife, Kerri, but also reduce his personal carbon footprint since the new facility is a seven minute drive or a 22 minute bike ride from his home.
I tasted his toothsome pinot noir, cuvee des amis 2006 made from with some whole cluster fermentation of grapes from five vineyards. John said that the name of this wine derived from the fact that when his wine label was just starting out, he financed it by having friends pre-pay him and then he delivered a case of wine to each some time later. Now that he's a little further along, although still at a tiny 1,800 cases, he joked that maybe he should rename it cuvee de Bank of America. Be sure to check out his 2006 Rogue Valley Syrah, which at $21 is a steal. Check his swanky new web site for full details on his five wines, including a Tempranillo and a Sauvignon Blanc.

I only met Stewart Boedecker briefly at the IPNC and did not have the chance to taste any of his wines. But he seemed like a nice guy so I'll throw a picture of him up here too! Stewart and Athena currently make their wines at the Carlton Winemakers' Studio but will be decamping for soon for Portland, where they also live.
With New York City experiencing a mini-boom in wineries, it seems only right that Portland is getting in on the action! When will they reach parity with breweries?