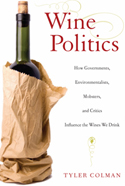 Here's a quick roundup of some recent reviews and mentions of my new book, Wine Politics: How Governments, Environmentalists, Mobsters and Critics Influence the Wines We Drink. If you've already gotten the book, many thanks and let us know your thoughts!
John Mariani (who has a Ph.D. himself from Columbia) wrote a review on Bloomberg.com saying that the book "contain(s) so much history, data and anecdotes in a highly readable 144 pages."
John and Dottie quoted from the book in their Friday column in the WSJ!
The Times Higher Education Supplement says that it "exposes a little-known but influential aspect of the wine business: the politics behind it."
Blogger Jeremy Parzen, Ph.D. generously calls it "required reading"!
And Tom Wark, involved in the day-to-day workings of wine industry politics as the head of the Specialty Wine Retailers' Association, wrote on his blog that "A book of this sort is so long overdue and I had been looking forward to it with such great anticipation that I nearly wet my pants when it finally arrived at my door." Then he said some other stuff that is too nice to reproduce here so you'll have to visit his blog, Fermentation, for the rest of his write up.
The signings in Oregon were fun–it was great to meet some blog readers for the first time. Thanks for the continued interest in Wine Politics and your support!