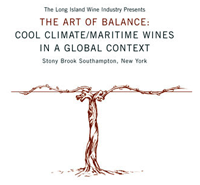 SUNY Stony Brook, Center for Food, Wine and Culture, will be having an international wine conference next week entitled "The Art of Balance: Cool Climate/Maritime Wines in a Global Context."
The interesting lineup of speakers includes New York winemakers such as Eric Fry and Thomas Laszlo, NYC somm/wine soothsayer Paul Grieco, and winemakers from Friuli Venezia-Giulia, the Rheingau, Rías Baixas, The Loire, Bordeaux, and Santa Rita Hills. Check the site for the full line-up.
There will also be a tasting on Tuesday night with wines from 75 wineries and it's possible to just attend this portion of the two day festivities. The whole event will be a good opportunity to taste the NY wines compared to other wines and discuss potential directions for New York wines. If I were in town, I'd be there!
August 5 & 6, SUNY Stony Brook Southampton.