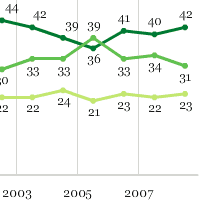 The annual Gallup survey about the drink preferences of Americans is now out. After edging ahead of beer in 2005, wine has now fallen behind beer by eleven points, 42-31.
Really? I hadn't noticed. Wine bars are springing up in many cities across the land as are better and better wine shops.
It might be a sign of the weak economy with more people saying they prefer beer, which is less expensive. But polls also bounce around a lot. And they're simply surveys of attitudes, not actual behavior. It will be interesting to see if 2008 is the sixteenth year of consecutive growth in wine consumption in the US. What's your bet?