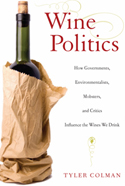 My new book, Wine Politics: How Governments, Environmentalists, Mobsters and Critics Influence the Wines We Drink, is quickly becoming the best selling wine book from a non-profit publisher (the University of California Press) to launch while everyone is away on vacation! Let's sell out this limited production cuvee (in wine speak, only several hundred cases made in the original printing). Here's a quick roundup of some recent reviews and mentions. If you've already gotten the book, many thanks and hope you enjoy it!
The Wall Street Journal ran an author Q&A yesterday with a ridiculously large photo!
Publisher's Weekly called it "an enlightening volume on a complex topic."
The Wine Economist, aka Professor Mike Veseth, had a nice review saying, among other things, "I think it's a blend that will appeal to a lot of wine enthusiasts."
Gastronomer's Guide wrote that "after reading this book, a glass of wine will never be the same."
It's been a fun launch! Last night at Powell's in Beaverton, Oregon we had a good discussion (pick up a signed copy of the book through their site). And I was invited on KPCC, the NPR affiliate in Pasadena last and even took calls (fortunately people DID call!). Thanks to those of you who have posted your own reviews and comment to Amazon! And if you're new to the site, consider subscribing to the site feed.