You don't have to have been long financials for most of 2008 to want a good bargain; great wines under $10 are always in demand, and increasingly hard to find. Here are two for weathering the financial downturn–and beating the summer heat.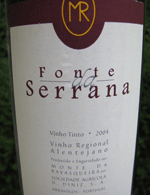 Fonte da Serrana, Alentejo, Portugal, 2004. $5.99 (find this wine)
Alentejo is a hot, dry part of Southern Portugal that, when it comes to wine, traditionally has been more known for making closures–corks–rather than what goes in the bottle. But this wine will make them consider planting more vines. The alluring nose of dried herbs precedes the all-berry attack the attack, which, in turn, is followed by a surprising degree of bright acidity and gentle tannins. A GREAT summer quaffer. And our new house burrito wine. Day two it was still going strong and poured at fridge temp, marvelously refreshing on the deck. The blend is mostly Aragonez (a.k.a Tempranillo) and the indigenous Trincadeira.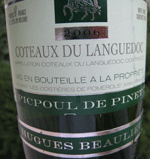 Hugues Beaulieu, Picpoul de Pinet, Coteaux de Languedoc, 2006. $7.37 (find this wine)
Picpoul de Pinet is a blast of summer freshness that comes from a stone's throw away from the Mediterranean. With a citrus zip of tart acidity, a light saline quality, this wine, from a cooperative producer, is refreshing to pair with 95 degrees–as an aperitif or with seafood. It's easy to understand why Picpoul is known as the Muscadet of the south both for flavor profile as well as wallet-friendliness. I got this bottle from a sale that is now, sadly, over (bringing the price up to $8.99) but I will definitely get more for the dog days of summer.