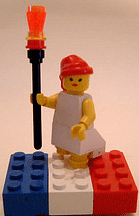 SIPPED: Wine nationalism!
At the recent G8 Summit in the remote Hokkaido, wines from various of the countries (sorry, Russia and U.K.) were poured at the festivities, including: "Le Reve grand cru/La Seule Gloire champagne"; the Isojiman Junmai Daiginjo Nakadori sake; Louis Latour, Corton-Charlemagne 2005; Ridge California Monte Bello 1997 and Tokaji Esszencia 1999″ (Hungary–booyah! A non G8 country slips in.). The juxtaposition of the leaders' banquets and global food shortages was not lost on The Independent. France won the vinous nationalism stakes with the most wines poured.
SPIT: Adolescent binge drinking!
France will debut it's first ever anti binge drinking campaign on Friday. According to Decanter, it will run on TV, radio and in in movie theaters and "feature adolescents enjoying a 'paradise-like universe', which turns into a nightmare after they drink too much." Whoa! Send in a clip if you see it.
SIPPED and SPIT: The St. Emilion classification!
Sweeping victory from the jaws of defeat (or, more likely, the other way around), the classification of St. Emilion producers that updates every ten years was thrown out by a judge last week–only to be reinstated on a temporary basis for three years by another authority later in the week. [Decanter]
SIPPED: summer all year!
Rosé surpasses white wine as the most popular in France. [Times.co.uk]