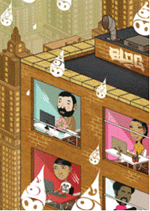 They're not all new, but here are some wine blogs worth checking out if you haven't already.
Do Bianchi: The itinerant Jeremy Parzen seems to float between New York and San Diego but his wine home is clearly Italy. He has a PhD in Italian literature and worked for an Italian wine importer for a while in NYC. One posting among many interesting ones is how he came to appreciate new oak barrels (barriques) during a visit to Movia in Slovenia. Btw, the blog is pronounced "doh bee-an-kee," which apparently means "gimme two cold ones" in Italy.
Grape Wall of China: Jim Boyce blogs from Beijing and does an excellent job showing us life through the lens of the wine glass in that exciting market. He seems to buttonhole every winemaker who comes through Beijing and has many interviews with notable wine personalities and even had a picture of himself with Robert Parker on the great wall! He also did a Q&A with some guy named Dr. Vino recently.
Blog Tablas Creek: Jason Haas is the general manager at Tablas Creek, a winery in California's Central Coast winery specializing in wines from grape varieties from the Rhone. With good reason: the winery is a joint venture between Chateau Beaucastel's Perrin family and the Haas family of the importer Vineyard Brands. Jason blogs about grapes, events, planting new vineyards, and also this excellent post about the hidden costs of direct shipping after the 2005 Supreme Court decision–wine politics!
On the Wine Trail in Italy Alfonoso Cevola keeps a quirky wine blog when he's not tending to his daytime duties as Italian Wine Director at the distributor Glazer's in Texas. He makes posting images look easy (it's not, trust me) but he is good with words too, infusing his wine experiences in Texas. Since I'm a fan of off-beat wine pairings, check out which wine goes with searsucker.
Steve Heimoff, West Coast editor at Wine Enthusiast magazine and wine book author has turned his energy on blogging. He's done a good job stirring the pot and, like us, he's no fan of Styrofoam!
Wine sooth: Frequent commenter on this blog Arthur Przebinda started a blog just last month–so it has that new blog smell. He focuses on wines of Central Coast on his site but promises musings on other topics on his blog.
The image is a reduced size crop of an image that originally appeared in PC Magazine.