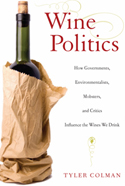 We are in book launch month! The official publication date for Wine Politics: How Governments, Environmentalists, Mobsters, and Critics Influence the Wines We Drink is July 14 but there are a few events before that (and the book is in stock now with many retailers). Here's a roundup:
July 9, noon-1 PM: Beard on Books: a talk, discussion and book signing at the James Beard House, NYC. Brown-bagging welcome; coffee and wine biscotti from Three Tarts bakery will be available. $20 donation to the JBF encouraged for non-students. If you've never gotten around to checking out the historic Beard house, now's your chance! 167 W. 12th St. Details and reservations.
July 11: Book signing at Astor Wines (Lafayette @ 4th St), 6-8 PM. No talk here, just a signing; French wines also available for tasting.
July 22: Book signing at Powell's Books, Cedar Hills Crossing (Beaverton, OR), 7PM. details and preorder a signed copy of the book
And one day (Saturday the 26th?) at IPNC, the International Pinot Noir Celebration.
I hope you can make one–or more! If you can't, consider adding the book for your virtual shopping cart. Ponder this comparison: William Fevre, Chablis, 2006 a fine wine that goes for $19.95 a bottle. Or , available from Amazon for $18.15! The Chablis will bring you pleasure for one evening but the book will hold down your bookshelf forever! And unlike wine, available now for shipping to all 50 states!