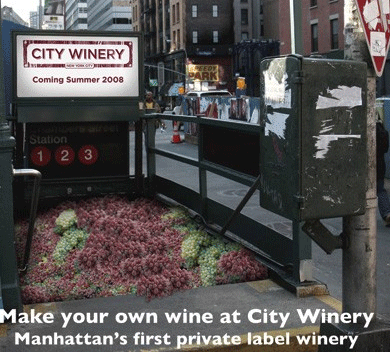 Cities used to be for beer making. Wine, traditionally made near the vineyard, is moving into cities at warp speed.
First wineries infiltrated Brooklyn, as Brooklyn Oenology and Bridge Urban Winery have done and Abe Schoener will do in Red Hook later this year. Next up: Manhattan. City Winery, a night club meets wine bar meets winery, will open at 143 Varick St in the fall.
Michael Dorf, owner of the nightclub the Knitting Factory among other pursuits, is heading the City Winery. Grapes will be trucked in from New York State, California and possibly beyond to be made into wine under the supervision of David Lecomte, a French trained winemaker who has made wine at Chapoutier and Herzog, the kosher winery in California. People can buy a barrel (approximately 250 bottles of finished wine) starting at $5,000 and track its progress. Crushpad, which pioneered this approach in San Francisco, will also open a facility in NYC in the fall.
While the winery space will be for members (aka "barrel owners") only, the nightclub/wine bar will be open to the public with more than 50 wines by the glass and an event space for up to 400. Oh, and there's a state-of-the-art sound system.
Read more about City Winery and the bureaucratic hoops they had to jump through including licensing and waste removal issues at Wines & Vines (they could send all that pomace to Delluva Day Spa instead!). The Village Voice also had a recent piece on the trend.
Tipster Steve points out that times have changed since 2000 when the "last" winery moved out of NYC as tax incentives and rising costs lured the kosher Kedem to Bayonne, NJ. The barrel always rolls…