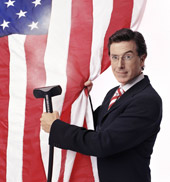 America will soon be the biggest wine country in the world and we need a motto! Thanks to the 30 commenters who often had multiple suggestions–browse them all for a good laugh.
Ray Isle, Deputy Wine Editor at Food & Wine magazine, the frequent face of wine on the Today Show, a wine blogger in his own right and all around good guy joined me in narrowing the field of suggestions. So here they are, the finalists, for your voting. Decide America's new wine motto here and now!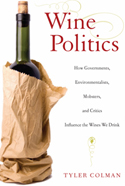 The one with the most votes as of Friday will be crowned the winner and will receive a signed copy of Wine Politics: How Governments, Environmentalists, Mobsters, and Critics Influence the Wines We Drink. That's right, the book that tells the story of wine in France and America through the lens of industry politics will be on of theirs in time for the Fourth of July. Congratulations to site readers Mark Ashley, Patrick Henry (who knew?), and Katie for making it into the finals!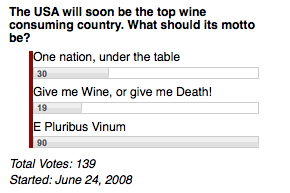 poll now closed