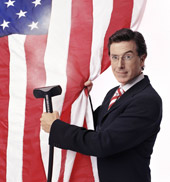 The United States of America will soon become the largest wine drinking country in the world. It depends on whom you ask, but some time in the next year or two or five, we will be downing more of the fermented fruits of the vine than any other country–including France and Italy. Of course, they still tower over us with 52 and 46 liters per person respectively while we manage only about 13 liters per American (somewhere between a third and a half of Americans claim never to drink alcohol).
So we have to be ready: we need a motto. Britain did it. Then Freakonomics blog urged their readers to come up with one for America in six words. Collectively, we drink and now YOU can decide: Post your suggestions in the comments here for America's new motto as the top wine consuming country.
Ray Isle, who writes his own excellent blog (now with pictures!) when he's not giving wine seminars in Aspen or writing his wine column for Food & Wine magazine, will join me as a mini-panel of flag pin-wearing judges. We will cull through your suggestions and select some finalists for your voting, starting next Tuesday.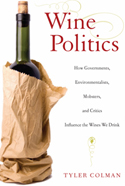 And to up the ante from our usual prize of mere "glory," whoever submits the winning slogan will win a signed copy of my just-about-released book, Wine Politics: How Governments, Environmentalists, Mobsters, and Critics Influence the Wines We Drink. That's right, the book that tells the story of wine in France and America through the lens of industry politics could be yours for the Fourth of July.
So put down your flag for a second and start typing your slogan for America as world wine leader!