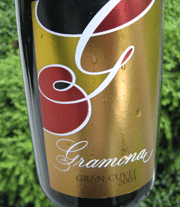 Gramona gran cuvee ($18, find this wine)
In the quest for affordable bubbly, cava often appears. But this 2004 gran cuvee from Gramona is a cut above, softer and rounder than champagne but lacking the sweetness often found in other, lesser cavas. Handsome packaging also makes this a good gift to bring to a lawn party.
Luneau-Papin, Clos des Allees, Muscadet 2005 $12 (find this wine)
One of the unanimously popular wines from my last NYU class, this Muscadet has the vaguely saline allure of good Muscadet yet weaves in a layer of creamy richness. A no brainer with seafood.
Kurt Darting, riesling, Durkheimer 2005 (about $13, find this wine)
From the Pfalz, one of the warmest growing areas in Germany, comes this value riesling from Kurt Darting. The warmer climate makes it have more tropical fruit notes and makes the off-dry wine a great match for spicy foods. It was the most popular wine at a recent tasting I did for 130 people who applauded, cheered and threw panties on stage for this wine when I asked them which was their fave. Riesling appears on the inside track fo the Grape of the Year 2008!
Thierry Puzelat PN ($18, find this wine)
I always love finding a great pinot noir under $20 and this stealth find doesn't say the grape variety or place on the label. That's because the naturalista winemaker Thierry Puzelat in the Loire has made this wine as a humble vin de table rather than as a traditional appellation wine so it can't even provide the vintage either (you can read more about these crazy French wine laws in my new book, Wine Politics). This PN has good pinot character with lively fruit and acidity, which make it a perfect pairing for dining on the deck.

Yellow + Blue malbec, Mendoza 2007 (about $11 for a liter, find this wine)
This is my first taste of the YB, an unoaked malbec from grapes grown organically in Mendoza that comes in a one-liter TetraPak. Unlike most box wines that have little to distinguish them other than the packaging, this wine has good poise and intensity with berry, plum and herbal freshness. Because it's a third more wine than a regular bottle, this is a crazy-good value. The ultra-light packaging means it's easy to throw it in your backpack or picnic basket when you need wine on the go. Try serving slightly chilled.
Chateau d'Oupia, Minervois, 2006 $11 (find this wine)
Fuller bodied than the malbec, this natural wine from Languedoc should be a staple of tightwad grillers everywhere. Grilled meat–preferably without sauce–has met it's match.
Related: "Which wine pairs with 98 degrees? Australian riesling edition"
"Kickin assyrtiko in Santorini"