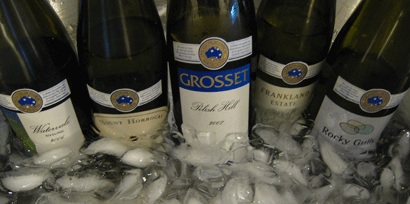 Yikes, it was a scorcher this past weekend and temperatures remained in the "excessive heat warning" levels for four days. So the most pressing question for wine lovers was: which wine pairs with 98 degrees? For us, the answer was dry Aussie riesling.
These young wines were wildly refreshing. Consider the Rocky Gully 2007 (find this wine) from a remote part of the already remote Western Australia. It has an alluring riesling nose of cut grass and lime zest with surprising depth and fantastic refreshment. A great value, the previous vintage is still available for $12; some of these wines may not yet be in stores since I tasted them as samples. Frankland Estate (find this wine) from the wonderfully remote sounding Isolation Ridge part of Western Australia offers some more minerality and complexity.
From the Clare Valley in South Australia, we tried two wines from Jeffrey Grosset, hailed by Decanter as one of the top ten white winemakers in the world. Given that buildup, I was slightly underwhelmed by the Watervale 2006 (find this wine), which was still fresh and fun but surprisingly simple. The Polish Hill 2007 (find this wine), however, was in a different league. The nose has lots of stony, zesty appeal and the palate has bright a acidity, rocky minerality and squeaky cleanness leading to a lasting and pleasing finish. At 13.5 percent alcohol, it was the highest abv of the wines we tasted.
Clearly this 2007 is a mere baby and given my recent mature wine mania, I'd love to taste more examples with age. Given the phenomenal worldwide demand for Grosset's wines, and the strength of the Aussie dollar, the $30 for the 2006 (find this wine) is anachronistic since the 2007 has a list price of $46. As enjoyable as the wine is, I'd have a hard time opting for this youthful riesling for drinking today instead of the 2000 Trimbach Cuvee Frederic Emile, which has eight years under it's belt and still can be found for the anti-inflationary price of $35 (find this wine). Quite different wines, obviously, but why not have somebody else reputable age the wine for me?
Finally, we tried the Mount Horrocks 2006, also from the Clare Valley and made by Grosset's partner, Stephanie Toole (find this wine). Reticent aromas and flavors were the theme on day one but by day three, the wine showed surprisingly more depth.
In all, these Australian rieslings were a great way to beat the heat. Which wines do you use to wash down a heat wave?