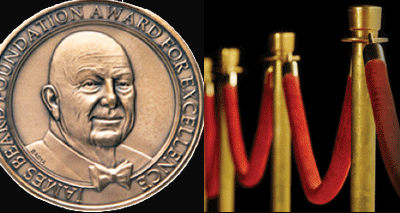 I'll be heading back to the James Beard awards this year, not as a nominee, but as a blogger! Make that a live blogger!
Yes, my beat is not only wine but also cocktails. This will take me first to a pre-show on the red carpet (which doesn't show wine stains!). Then into the awards with breaking coverage (not glasses) of winners. Then on to the dinner where I've been assigned to the VIP section where I'll have to ask co-host and "Sex and the City" star Kim Cattrall if she only likes pinot from magnum. Daniel Johnnes (wine director at all of Daniel Boulud's restaurants) will be heading a team of sommeliers pouring during the dinner. I'm even covering a cocktail lounge there so I'll see what's shaking–and what's straight up.
It won't be on this site, sadly, so surf on over to the official site on Sunday starting at 6 PM. Available now, you can see a list of the nominees, including wine and spirits books, best wine service and wine & spirits professional of the year. What do you think is Kim Cattrall's favorite wine? I'll have to ask her.